04 novembre 2009
I didn't finish to show you my new products over there. And today, it is again children who are in the light ...
So, with Delph order "You should made baby bibs for babies who are not babies anymore, because my table linen doesn't really like tomato pasta !!!"
I did it!!! Bibs for little girls and little boys, half cotton, half coating table and of course the so sweet classic one for babies...
Blue and Grey stripes, more for little boys!
Sweet colors and round angles, more for little girls!
And new colors fo the classical baby bibs !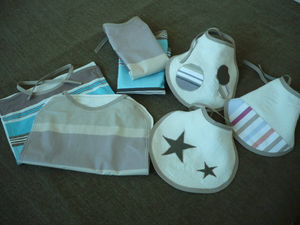 Here we go ...
MUXU!!
Commentaires sur New collection... again !!