02 novembre 2009
This weekend, TinkerBell left Peter Pan to date Jack Sparrow !!! I know I change the Disney story... but it was Halloween ....
As I am not bad with my sewing machine, I decided to make my costume by myself ... Just mine, not the Jack one !!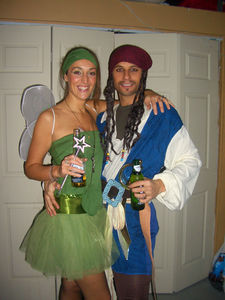 MUXU !!
And also, I would lile to congratulate my friend Céline who ran the NYC Marathon this weekend!!
I am proud of you Céline, Good job!!!
Commentaires sur The Pirate's Fiancée!!!