04 novembre 2009
I didn't finish to show you my new products over there. And today, it is again children who are in the light ...
So, with Delph order "You should made baby bibs for babies who are not babies anymore, because my table linen doesn't really like tomato pasta !!!"
I did it!!! Bibs for little girls and little boys, half cotton, half coating table and of course the so sweet classic one for babies...
Blue and Grey stripes, more for little boys!
Sweet colors and round angles, more for little girls!
And new colors fo the classical baby bibs !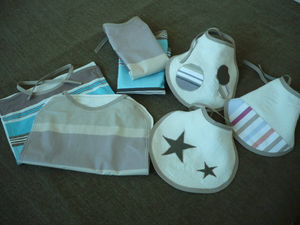 Here we go ...
MUXU!!
02 novembre 2009
This weekend, TinkerBell left Peter Pan to date Jack Sparrow !!! I know I change the Disney story... but it was Halloween ....
As I am not bad with my sewing machine, I decided to make my costume by myself ... Just mine, not the Jack one !!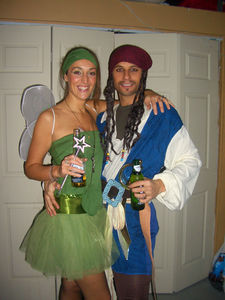 MUXU !!
And also, I would lile to congratulate my friend Céline who ran the NYC Marathon this weekend!!
I am proud of you Céline, Good job!!!
27 octobre 2009
I told you that I came back with new baby stuff...
Today, I want to introduce you, something I am really proud of, something for baby boy... a Cradle Bedding !!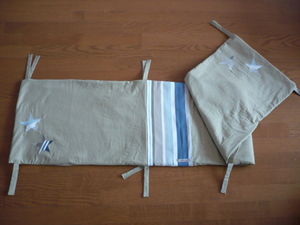 Here we go, a masculin one this time!!
MUXU!!
23 octobre 2009
With my Private Sale success, I wanted to create new products, but new products for small one only !!!
I decided to work on something really special, something to help baby to have a good sleep... An Halo SleepSack !!!
And the first one, is more for baby girl !!
See you soon for more new products !!
MUXU !!
21 octobre 2009
Yes, I start to knit too... Knitting is my new passion and now with my trendy scarf, I am ready for the cold winter !!
Of course, I say thanks to Sophie's advices and you can see the result just below ...
I know, if I had followed the sophie's rules, I didn't have to attach it with a pin...
MUXU !!
19 octobre 2009
Finally, I get the pics and I can show you my first Liberty's testing. Really small testing for the moment but cute one !!!
And now, stars of the day, the Liberty's pics ...
Yes, I know, I made the same things in both, but the truth is, I was so impatient to do it that I made two identicals wings... So, I customize my shirt too !!
But the result is nice in both, no???
MUXU !!
16 octobre 2009
I promised to show you my Liberty's creations, you are right... But, I was attacked by my creativity and I was just able to desorganize my apartment and that's it ...
Shame on me !!
MUXU!!
13 octobre 2009
No, I am not going to talk to you about Lady Liberty... but one of the most popular thing in the blogosphere and which all women want to have, the Liberty fabrics !!!
You know, this little british thing, I dit it too !!!
I know, nothing in common with the stippes but doesn't matter.
Here we go ...
I am going to show you my first creations really soon.
MUXU !!
08 octobre 2009
I know, I apologize, I am not around here very often in this moment...
But, I have good reasons. First of all, I am tired, add to this, my orders to prepare, a lot of visitors from France and to finish, I got cold, so at the end, you have someone without any motivation....
It is why, I am not going to show you my new creation today, but I want to talk to you about a cruch I had this week... It is my friend Delph who (another BFF from France) "introduce" me this incredible/so adorable/original website... I totaly love it!!
It is a kind of ebay but just for young designers (most of them are women of course...) who sale their handmade creations !!!
The atmosphere is really nice and feminin but not too girly; and for example, you can make a search by color !! It is one of the most perfect website I discovered !!
I let you see by yourself :
www.esty.com
MUXU !!
01 octobre 2009
Last week was very emotional and crowded for Soleil Basque.
First of all, my first Private Sale, then my friends Fred & Alex came for France, espacially for U2's Concert and finally, the U2's concert of course !!!! Ouuuuh ouhouh!! Ouuuh ouh ouh!!
But since Fred & Alex are my BFF, they didn't come with empty hand... They put in their luggages something really special, something I asked for last time they came (less than 2 months ago...).
With all this stress I had, I really needed a sweet moment.
So, my friend Anne-Lise (another one) with her assistant Alex, cooked for me this little amazing things, THE macarons!!
So, when you are not a good cooker, say thanks to your best friends ...
MUXU !!